HARDLOCK Industry Co., Ltd., in partnership with the AOTS, organized a subsidized three-day online seminar called "Fundamentals of Threaded Metal Connections [OREG01]" aimed at Egyptian companies. The program was held on November 15th, 16th, and 17th, with each day's session lasting for three hours.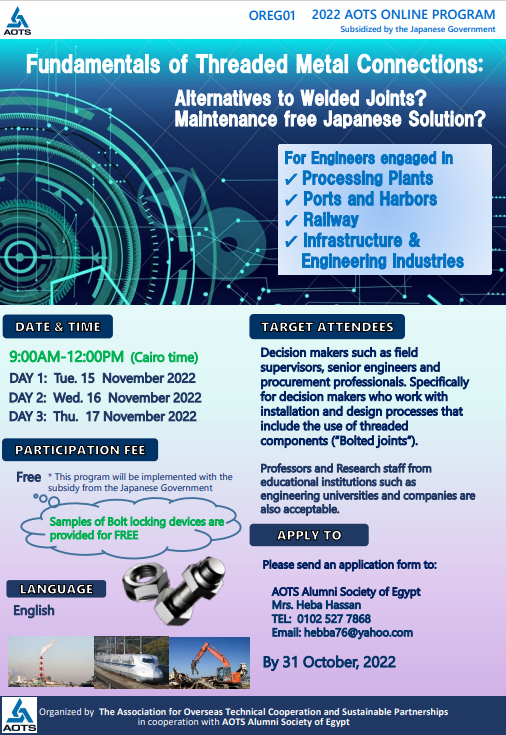 The Japanese firm collaborated with an expert university professor to deliver lectures on various topics, including Safe Design of Bolted Joints, Strategies to Prevent Loosening, and Techniques to Prevent Bolt Failure. Bolted Joints serve as the foundation for many manufacturing processes, and it is rare even in Japan to conduct a bolted joint seminar aimed at a broad audience of engineers. As a result, this event was likely the first of its kind to be conducted by Japan for an international audience.
Thanks to the strong partnership and dedication of the AOTS Alumni Society in Egypt, we received a much more significant response than anticipated, with about 170 applicants (as of the October 31 application deadline) compared to our target of 100 participants.
The applicants came from various manufacturing industries, such as the railway industry, infrastructure and construction sector (including the Suez Canal construction), and automobile manufacturers. Moreover, educational and training institutions also expressed interest in participating in the seminar.
Despite being simple and commonplace in our daily lives, bolted joints still lead to life-threatening accidents worldwide due to poor design and incorrect installation. The high number of applicants for this seminar indicates a growing awareness of these issues.